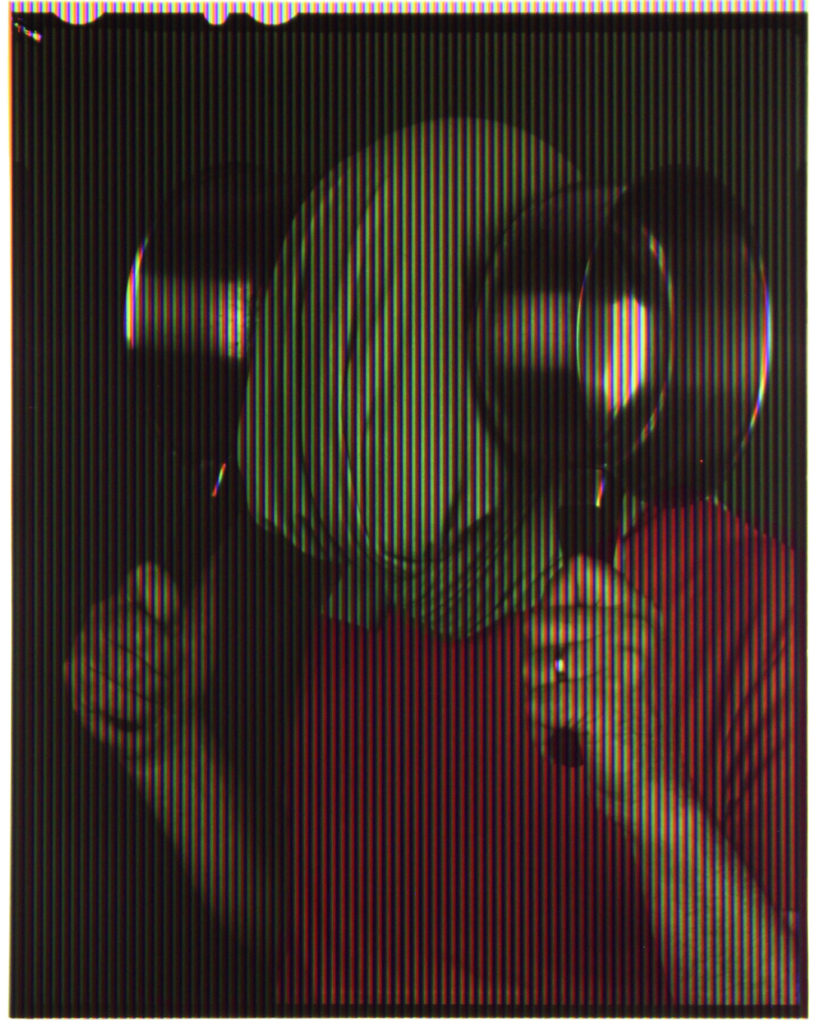 I Can't Hear You
2018
Gelatin silver sheet film (reverse processed), duraclear c-print
25 x 26 cm. in a Lightbox
Edition of 1
€1500
Phelan has been working for the past 3 years on reviving a forgotten colour photography process invented in the 1890s in Dublin. John Joly, a professor from TCD invented a process that proved full colour could be made from combinations of red, green and blue light. The resulting photograph is comprised of two parts – black and white sheet film and a colour screen made from red, green and blue stripes. This is not a chemical process but instead filters light on exposure and display to create colour. This image is from a series of self-portraits and formed part of an installation at The Lab earlier this year. Phelan will have a series of exhibitions in 2020 which will show many more variations of these photographs at the RHA, Void, Solstice and CCI Paris.
About the Artist
Alan Phelan studied at Dublin City University and Rochester Institute of Technology, New York. Exhibitions include: 2019 TBG+S Atrium, The LAB, Dublin, Glucksman Gallery, Cork; 2018: Dada Post, Berlin; 2017: Loop, Barcelona; 2016: Dublin City Gallery The Hugh Lane, EVA International, Limerick, NSK Folk Biennale; 2015: GDA commission, Videonale.15, Fragments, IMMA; 2014: Golden Thread Gallery, Belfast, Detroit Stockholm; 2013: Treignac Projet, Oonagh Young Gallery, Dublin; TBG+S; Bozar, Brussels; 2012: Eastlink Gallery, Shanghai; 2011: Oksasenkatu 11, Helsinki; Mina Dresden Gallery, San Francisco; 2010: Galería Del Infinito Arte, Buenos Aires; 2009 Fragile Absolutes, IMMA, Dublin and Chapter, Cardiff; EV+A, Limerick; 2008: Solstice Arts Centre, Navan; 2007 Feinkost, Berlin; mother's tankstation, Dublin; 2006: ŠKUC, Ljubljana; SKC Gallery, Belgrade; The Lab, Dublin; 2004: Whitney Museum of American Art, New York.
His work is included in the collections of the Irish Museum of Modern Art, Trinity College Dublin, Limerick City Gallery of Art, The National Self-Portrait Collection, the Office of Public Works, Dublin City Council and several private collections.
alanphelan.com